!– TemplateBeginEditable name="doctitle" –>

<!– TemplateEndEditable –> <!– TemplateBeginEditable name="head" –> <!– TemplateEndEditable –>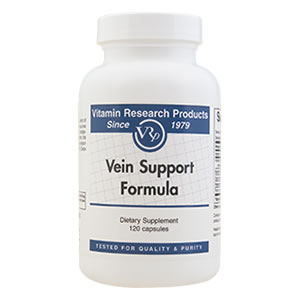 Product of America
This formula contains a blend of herbs and nutrients demonstrated to improve venous tone and structural integrity.* As studies have shown, constipation / straining may worsen varicose veins. Therefore, this products effectiveness may be enhanced by consumption of high-fiber meals and/or products like VRP's Detox FiberPlex or Fiber-Rite.
Recommended Dosage: 2 capsules twice per day.
Serving Size: 2 Capsules
Servings Per Container: 60
Amount Per Serving: % Daily Value
Vitamin C (ascorbic acid) 50 mg 83%
Horse chestnut 300 mg * (Aesculus hippocastanum) extract (seed)
Butcher's Broom 250 mg * (Ruscus aculeatus) extract (root)
Gotu Kola (Centella asiatica) 250mg * extract (leaf)
Hesperidin 200mg *bioflavonoid concentrate
Rutin concentrate 200 mg *
*Daily Value not established
Other Ingredients:
Hydroxypropylmethylcellulose (vegetarian capsule).
Contains no added sugar, starch, salt, wheat, gluten, corn, coloring, dairy products, flavoring or preservatives.
Keep container tightly closed in a cool, dry and dark place. Keep out of reach of children.