!– TemplateBeginEditable name="doctitle" –>

<!– TemplateEndEditable –> <!– TemplateBeginEditable name="head" –> <!– TemplateEndEditable –>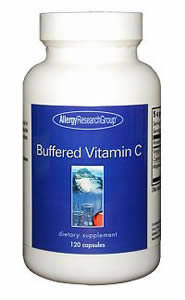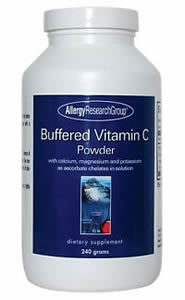 Product of America
Note: This product is no more available. Will offer similar product shortly.
Buffered Vitamin C Capsules and Powder contains high-purity ascorbic acid buffered with carbonates of calcium and magnesium. Buffered C has an acid-alkaline buffering action that can help control the increased acidity often associated with allergic reactions.* Developed by Stephen A. Levine, Ph.D.
Suggested Use: As a dietary supplement, 2 to 4 capsules, two or three times daily between meals, or as directed by a healthcare practitioner.
Product Cautions: None
Other ingredients: Cellulose.
These nutrients are of the highest quality and purity obtainable, and do not contain preservatives, diluents, or artificial additives.
Variations in product color may occur. Keep in a cool, dry place, tightly capped.
| | |
| --- | --- |
| Serving Size for Buffered C Powder (can be mixed with juices or just plain water) | 1 teaspoon (4.7 g) |
| Servings per container | 51 |
| Amount per serving: | |
| Vitamin C (as Ascorbic Acid) | 2135 mg |
| Calcium (as Calcium Carbonate) | 405 mg |
| Magnesium (as Magnesium Carbonate) | 215 mg |
| Potassium (as Potassium Carbonate) | 90 mg |