Classica Gold's Benefits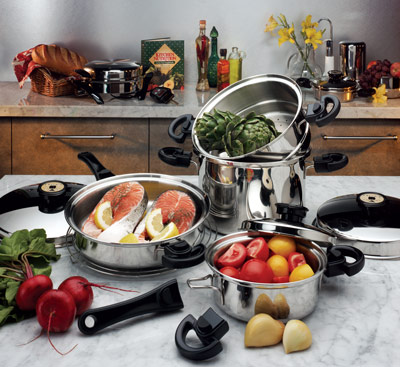 Classica Gold is Better Nutrition, Promoting Good Health and Well-Being
Cooking with Classica eliminates the need to drain nutrient depleting water that would send vitamins and minerals down the drain. When cooking with the combination of the Temp Tone Control, it's vapor seal, and low heat - foods baste in their own juices and oxidation is then kept at a minimum.
Classica® cookware is constructed to enable you to cook without added fats and oils.

Through the proper use of the Classica® Gold cookware you are working to address the health concerns of you and your family.
Classica Gold's Stack Cooking: Simplifies Meal Preparation
Prepare entire meals on a single burner. 
Classica Gold is Convenience
Our products are easy to use and easy to clean
Classica Gold is Economic
Energy efficient - with its minimum heat requirement and ability to "stack cook"
Eliminates shrinking - therefore less food is consumed and/or required to purchase
Classica Gold is Nutrition
Reduces fat intake - no need for added fats or oils because food is basting in it's own juices
Retains nutrients - since we aren't boiling them in excessive water nutirents are neither drained or being evaporated
Classica Gold is Taste
Retains natural food flavors
Classica Gold is Service
Lifetime Limited Warranty
Classica Gold Saves Time and Money
Saving fuel is economically and environmentally friendly. Low heat cooking reduces energy consumption.
Classica Gold Products are Ideal for Use on Any Cooking Surface
Electric, gas, induction, and ceramic glass.

Space-Saving Storage
Self-storing covers allow stacking; uses minimal cupboard space.
---
Ask a question:

Nutrimax Wellness Store, Singapore
390 Victoria St #02-30 Golden Landmark (Opp. Raffles Hospital) Singapore 188061 Tel: 6292 2991, 83338375 (Mobile)