Black Garlic Single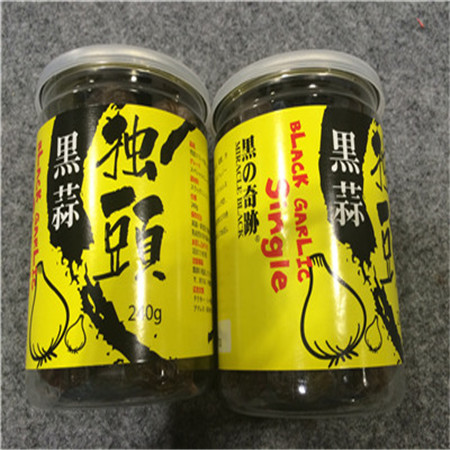 Description:
Black garlic is a pure natural health food adopting international leading special biological fermentation, using only high quality garlic.
The Black garlic derives its dark appearance through the fermentation process. Fermentation takes place through two stages.
In the first stage Organic garlic bulbs are arranged in wooden boxes and placed in a greenhouse-like room for about a month.  The room is kept at high temperature and humid conditions to create a dry steaming effect which is ideal for the garlic bulbs to ferment. By the end of the month, the garlic bulbs will acquire a light brownish color. They will then be transferred to another room for the next and final stage of maturation after which it would acquire its black appearance.
Simple though it may seems,  these effects on the fresh garlic bulb includes decomposition, acid reduction, hydrolysis, synthesis and a host complicated transformation affecting more than 800 types of amino acids.  Enzymes are broken down and proteins and sugar naturally found in the garlic will combine to create the black appearance, the sweet, balsamic taste and smooth soft texture that offers an amazing melt- in-the- mouth sensation.
Fermentation changes the taste of garlic, maintains and enhances the nutritional value, increasing cellular absorption, eliminating the sharp excitant odour, rendering it delicious yet nutritious. This advanced method of Japanese fermentation technology was discussed by Professor Junichi Sasaki  (Sasaki J, et al, 2000) , whose research team studied  the anti-tumour potentials of the aged Black Garlic.
Benefits of Black garlic:
Purely natural, healthy and green food without additives
Contains 18 kinds of amino acids which are essential for human health
Enhances immunity, especially for the vulnerable people
Energizes
Has anti-ageing properties
Assists in the recovery from illness.
Balances blood pressure, blood sugar, blood lipid and cholesterol levels
High anti-oxidant properties, twice that of regular white garlic. Antioxidants are essential for
our immune system as well as preventing and repairing damage to the body's cells.
lowers cholesterol levels,
a natural antibiotic that protects against infections
Direction:
Eat it by itself or cook with other food. It does not stimulate stomach in a way a raw garlic does.
1 garlic every time, once or twice a day, after meal. 1 box will last about 25 Days.
---
To order or to ask a question:

Nutrimax Wellness Store, Singapore
390 Victoria St #02-30 Golden Landmark (Opp. Raffles Hospital) Singapore 188061 Tel: 6292 2991, 83338375 (Mobile)