Artemisinin - for Parasite Detox
Quicksilver Scientific Etheric Delivery™ Phospholipid Encapsulation System,
4.0 oz. ( 120ml)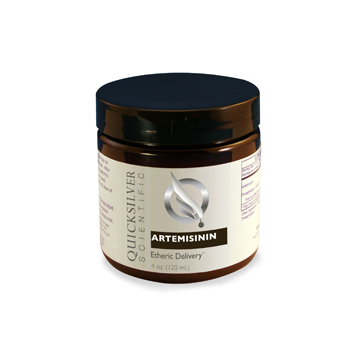 SUPPLEMENT FACTS

Serving Size

5 ml (1 tsp)

Servings per container

24 Per Serving Value

Contents

Artemisinin 40 mg
Phosphatidyl choline 450mg. From Purified Soy Lecithin

Other Ingredients: Glycerin, Water, Ethanol, Phospholipids
Artemisinin is an active constituent of the plant Artemisia annua, or sweet wormwood. Artemisinin and its derivatives are powerful medicines known for their ability to swiftly reduce the number of Plasmodium parasites in the blood of patients with malaria.
Research has also shown artemisinin to be beneficial in balancing the
microbiology of the Gl tract, and has long historical use as an agent used to eradicate gastrointestinal parasites.

Artemisinin's reported pharmacological activities include cytotoxicity against some cancer cells, and antibacterial and antifungal activity. Artemisia is commonly used in treatment of babesia and Lyme disease.
The Parasite Remedy
Also known as Qinghaosu and sweet wormwood, Artemisinin has been used by herbalists in China more than 2,000 years. They use it to combat a large variety of illnesses. It has been used successfully to treat malaria parasites since the early '70s.
There have been studies that show artemisinin also kills other types of parasites, including Toxoplasma gondii, which causes toxoplasmosis; Leishmania major, which causes leishmaniasis; and species of Babesia, which cause diseases resembling anemia in humans and animals. It has been effectively used against other parasitic infections as well and makes a great addition to any detox program.
Animals can benefit from using artemisinin as well. It is believed it is an effective cancer treatment for dogs and other pets. It is very selective and targets the cancer cells. High dosage toxicity tests were done and found it to be safe.
Quicksilver's Etheric Delivery™ Phospholipid Encapsulation System brings the power of intravenous therapy into a convenient oral delivery. Our Etheric Delivery™ improves upon liposomal technology with smaller, more stable, single-layer spheres made from the highest-grade ingredients available. In addition to exceptional absorption rates, nanospheres like Quicksilver produces have demonstrated the ability to deposit their cargo intracellularly and enhance lymphatic circulation of nutrients. Also, the phospholipids that compose the liposome shell feed the cell membranes. This ensures the proper function for the absorption of nutrients and the excretion of cellular waste products
and toxins.

Production Technology Features:
Easy to disperse in water/juice when desired
Developed in an oral vehicle to support absorption of this poorly soluble compound.
---
To order or to ask a question:

Nutrimax Wellness Store, Singapore
390 Victoria St #02-30 Golden Landmark (Opp. Raffles Hospital) Singapore 188061 Tel: 6292 2991, 83338375 (Mobile)